in collaboration with the Piazza Center


June 12-13, 2023
NCAA Hall of Champions & Conference Center Indianapolis, Indiana
Registration Deadline: May 22, 2023
Registration is closed. If you have questions, contact Todd Shelton.
NOTE: The Symposium & Institute have different audiences and different registration.
Who should attend: new professionals/advisors, graduate students & student leaders across all student activities & organizations including fraternity & sorority life, athletics, recreation/club sports, performing arts, etc.
NCAA Hall of Champions & Conference Center
700 W Washington St
Indianapolis, IN 46204
If you are staying at the Courtyard by Marriott, the NCAA Conference Center entrance is a short walk across West Washington Street and down the Central White River Trail across the pedestrian bridge.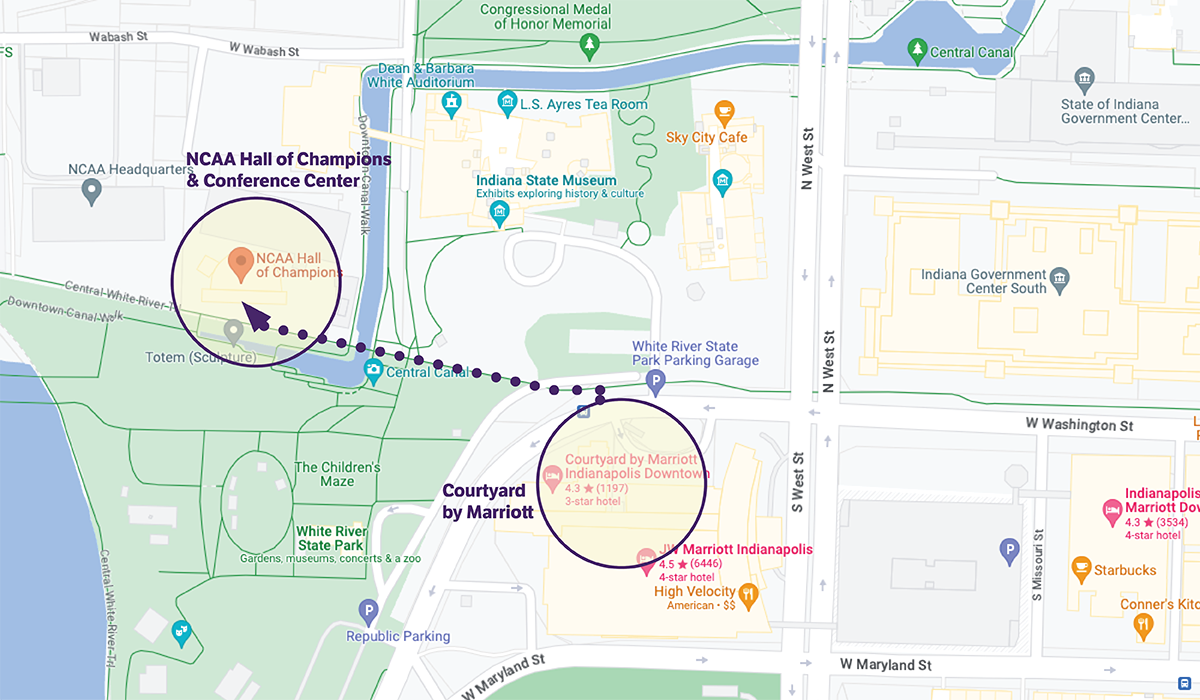 This institute style program will employ the Piazza Center Horizontal Hazing Model to identify the motivators and detractors for individual, organizational, and community participation in hazing. The program will scaffold learning through large group sessions and small group working sessions where participants apply research-informed concepts to the real-world environment. Participants will depart the institute with a working plan for implementing hazing intervention on their campus or in their organization.
As a result of participating in the Hazing Prevention Institute:
Participants will describe individual, organizational, and community level hazing motivators and barriers to hazing reduction.
Participants will describe three ways the Piazza Horizontal Hazing Model can be applied to their campus/organization.
Participants will apply the four components of situational strength to their campus/organization and will identify four strategies to disrupt situational strength.
Participants will identify four change management strategies they can employ in their hazing reduction efforts.
Participants will create a plan for enacting a comprehensive hazing elimination program. Three months post-institute, participants will report having taken steps outlined on their plan.
| | |
| --- | --- |
| Monday, June 12 | |
| 6:30 PM | Welcome and Introductions, Institute Logistics |
| 7:00 PM | Love, Mom & Dad | Parent Presentation + Q&A |
| 8:30 PM | Break |
| 8:45 PM | Why are you here? What do you hope to gain? |
| 9:30 PM | Our Time is Now |
| | |
| Tuesday, June 13 | |
| 8:00 AM | Breakfast |
| 8:30 AM | What we know about and why hazing happens: What the research says |
| 9:30 AM | What are the barriers that prevent us from eliminating hazing? |
| 10:30 AM | What do we know about prevention best practices? |
| 11:15 AM | Disrupting Hazing: The 4 Cs of Situational Strength |
| 12:00 PM | Lunch |
| 1:00 PM | Strategies for enacting change: Creating a plan that works |
| 1:45 PM | How to know if your plan is working |
| 2:15 PM | Working your plan |
| 3:00 PM | Share your plan with experts/like institutions to get feedback |
| 4:00 PM | Sharing of plans |
| 4:30 PM | Evaluation, Wrap Up |
| 5:00 PM | Departure |
If you have questions about the Hazing Prevention Institute, contact Todd Shelton, Executive Director.
Our room block at the Courtyard Marriott (601 W Washington St.) which is across the street from the NCAA is full.
Below are additional hotels in the immediate area:
More hotels in downtown Indianapolis:
https://downtownindy.org/explore/hotel
Scholarships available
DEADLINE: April 28

Harrison Kowiak tragically died as a result of hazing in college. Harrison's family offer the Harrison Kowiak Annual Scholarship for individual(s) interested in hazing prevention to attend the Hazing Prevention Institute. The scholarship includes up to two nights' hotel accommodations, a travel stipend up to $500 and the event registration fee.
Dr. Emily Perlow is the Associate Dean of Students at Worcester Polytechnic Institute, a Lecturer in the Counselor Education and Family Therapy Program at Central Connecticut State University, and is a Research Affiliate in the Center for Student Success Research at the University of Massachusetts-Amherst. She has a PhD in Educational Policy from the University of Massachusetts-Amherst and an MA in College Student Personnel from Bowling Green State University. Her research in the area of hazing focuses on the role hazing plays in the construction and performance of gender identity enacted through adult play behaviors.  She most recently co-authored a monograph on hazing prevention and intervention research at the high school and college level. In addition to serving as the co-chair emeritus of the NASPA fraternity/sorority knowledge community, she volunteered for many years with the Association of Fraternity/Sorority Advisors and Alpha Gamma Delta. Her research interests include hazing, masculinity, deviance among college populations, and marginalized populations in STEM.