As a part of your hazing prevention journey, we encourage you to Take the Pledge! In doing so, you make a commitment to raise awareness of hazing activities in your environment, take notice when a fellow or sister student is experiencing hazing, and don't be afraid to say something! When we work as a team and empower each other, we truly do become #STRONGERTOGETHER!
As a part of your NHPW activities, consider making "Take the Pledge" available to others to sign in your meeting or tabling activities #STRONGERTOGETHER!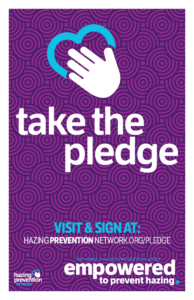 Spread the word on campus with Take the Pledge posters or one of our other awareness posters.
Sigma Nu members during National Hazing Prevention Week
Texas Christian University students during Hazing Prevention Week