Wear Purple to Bring Awareness
Your campus or organization can pick a day during NHPW (or the whole week) to wear purple to bring awareness to the issue of hazing.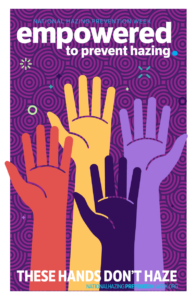 The following posters are designed to bring awareness to hazing prevention. Each is designed to be printed on 11″x17″ paper which is perfect for campus or organizational facilities and houses. Note: "Event" versions of the posters have a block at the bottom for you to write the name of your event, date/time and location.
Need a Zoom background for your NHPW programs? Right-click to save to your computer.
Plan a Social Media Campaign
This week is a great opportunity for your campus or organization to bring attention to the issue of hazing. We have put together social media graphics and posts to assist in your efforts. You are welcome to use these resources "as is" or customize them for your campus or organization. (HPN members have editable graphics available for quick customization.)
Plan to make a post across your campus/organization social media platforms each day during NHPW. Below are a selection of suggested social media posts and available graphics. Use post/graphics that build an overall message you would like to share (Don't feel like you need to use every graphic).
Suggested Posts (Or create your own)
We are recognizing #nationalhazingpreventionweek to bring awareness to this issue facing students. Hazing can quickly escalate to a mental or physical danger. Learn to assess the situation, Remove yourself, Speak out, and Report. #NHPW2023 #HazingHurts #HazingPrevention
It's #nationalhazingpreventionweek! We invite you to #TakeThePledge to stop #hazing and educate yourself to be #empowered to prevent hazing. #NHPW2023 www.hazingpreventionnetwork.org/pledge
Did you know that 55% of college students involved in organizations/teams experience hazing? Only 1 in 10 of them labeled it hazing.  #HazingHurts #NHPW2023
An estimated 1.5 million high school students experience hazing each year. 47% of students come to college having experienced hazing. #TakeThePledge to stop #hazing and educate yourself to be #empowered to prevent hazing. #NHPW2023 #HazingHurts
"Ask yourselves if brothers would treat their incoming brothers as animals." – Lianne Kowiak, anti-hazing advocate who lost her son Harrison to hazing. Educate yourself to be #empowered to prevent hazing #NHPW2023
#Empowered to prevent hazing is the theme to this year's #nationalhazingpreventionweek. Know the 4 Smart Steps to staying safe: 1. Assess the situation, 2. Speak out, 3. Remove yourself safely, 4. Report.  Learn more at nhpw.org #HazingHurts #HazingPrevention #NHPW2023
Join us and #TakeThePledge for #hazingprevention! www.hazingpreventionnetwork.org/pledge #NHPW2023
Did you know hazing starts in high school or earlier? It is found in religious organizations, marching bands, secret/honor societies, military spaces, athletics, academic workspaces & other student organizations. It happens most frequently in varsity athletics, fraternities and sororities, and club sports. #TakeThePledge for #hazingprevention www.hazingpreventionnetwork.org/pledge #NHPW2023
84% of participants indicate that if they knew an organization hazes, they would NOT join that organization according to a Prevent.Zone survey. Educate yourself and be #Empowered to prevent hazing. #NHPW2023 #HazingHurts
The most common type of hazing behavior is alcohol-related. (Followed by psychological harm, physical harm and sexual assault). #TakeThePledge to prevent hazing www.hazingpreventionnetwork.org/pledge #NHPW2023
Suggested Hashtags (use these or your own): #NHPW #NHPW2023 #HazingHurts #HazingPrevention #StopHazing
You are welcome to use these resources "as is" or customize them for your campus or organization. (HPN members have editable graphics available for quick customization. Contact Todd Shelton if you have not received them.)
(Right-Click a graphic to save to your computer.)
Alpha Delta Pi members tabling at Gettysburg College
University of Arkansas students during Hazing Prevention Week